9 Best Eventing Helmets in 2023 (Safe & Stylish)
Eventing riders understand, perhaps better than those in any other equestrian discipline, the value of safety equipment.
The best eventing helmets offer superior innovation and technology to keep a rider as safe as possible in the event of an unplanned dismount.
Helmets that offer extra protection during rotational falls, adequate ventilation, and lightweight are the preferred options.
Top Options
Best Eventing Helmets
1. IRH IR4G XLT Matte Eventing Helmet
Highlights
Offers extra protection beyond the ASTM F1163-15 standards
Ventilation ports on all sides of the helmet keep the rider cool
Liners are moisture-wicking and machine washable for lasting freshness
Elegant and stylish design means fashion isn't sacrificed for safety
Comfortable even when worn for long periods of time, including the chin strap
Why It's Great for Eventing
The IRH IR4G XLT Matte Eventing Helmet is hands-down the best helmet for eventing because it incorporates superior safety features with an elegant design and proper ventilation.
Riders love that there are two colors, black and brown, to choose from, along with four size options, making this a viable option for any person.
IRH consistently upgrades and improves its designs based on the latest research and development and this helmet builds off and improves the features of a perennial favorite.
This helmet exceeds the current safety standards and offers ventilation on all sides to keep riders cooler on course. A removable and washable liner helps keep it even fresher.
2. Tipperary Windsor MIPS Wide Brim Helmet
Highlights
The multi-directional impact protection system (MIPS) is a must-have on the cross-country course
The wide brim offers some extra sun protection on long days
Fiberglass banding is crush-resistant in the event of a fall
Added ventilation with six slots helps keep riders cooler
High safety ratings give eventing riders peace of mind
Why It's Great for Eventing
The safest eventing helmet a rider can choose is the Tipperary Windsor MIPS Wide Brim Helmet.
We know, as eventing riders, that our sport comes with more inherent risks than some other disciplines, but the safety equipment we choose can minimize those risks, and this helmet is one of them.
It's also a comfortable helmet, while still maintaining a high level of safety features. It's lightweight and has extra safety features, along with the Tipperary Retention System for added safety.
The liner is removable and washable, and six vents help keep riders cooler out on the course. Three sizes and five color options mean there is something for everyone.
3. IRH IR4G Suede Eventer Riding Helmet
Highlights
Riders can create a custom fit for maximum safety with the snap-in liners
The chin strap is comfortable and also has a quick release
Four sizes are available to help fit riders of all ages and sizes
Comfort is interwoven into the design, making it easy to wear
Available in a beautiful dark blue or black
Why It's Great for Eventing
There's something to be said for the new kids on the block, and the IRH IR4G Suede Eventer Riding Helmet may be a new kid, but not for long.
It's taking the eventing world by storm because of its innovative features and elegant design, and quickly become the top eventing riding helmet.
Removable liners made of moisture-wicking fabric, and that are machine-washable are expected these days, and this helmet offers that, along with other ventilation and cooling features.
The rear and side ventilation keeps air flowing without detracting from the design elements. It's an attractive helmet without sacrificing comfort or safety.
4. Charles Owen AYR8 Plus Helmet
Highlights
An exact fit is possible with 14 different size options
The low-profile and elegant design is synonymous with high performance
William Fox-Pitt and Boyd Martin, both Olympic eventers, compete in Charles Owen eventing helmets
It's one of the few helmets available in both a round or oval shape
Riders stay cool with 12 different ventilation slots
Why It's Great for Eventing
The Charles Owen AYR8 Plus Helmet has long been the discipline standard when it comes to an equestrian eventing helmet.
The brand is known for its distinctive look, comfort, and safety features.
Eventers know that horse and rider safety needs to be their top priority, and they choose equipment that helps them reach this goal.
The Charles Owen helmet is a good choice, while also being stylish and comfortable.
Comfort is built into this helmet in various aspects, from ventilation to the harness and chin strap.
The design is distinctive and beautiful, while the liner is antimicrobial and the headliner can be removed and washed.
5. Champion Evolution Puissance Helmet
Highlights
Meets the ASTM certified eventing helmet for the United States while also adhering to British standards
These helmets are hand-made and individually tested for safety
An attractive and snug fit for riders that need an oval shape
The traditional lacing in the back allows for a more customized fit
Available in both black and navy
Why It's Great for Eventing
It's well known that the British and Americans haven't always agreed, but the Champion Evolution Puissance Helmet is one thing we can all agree on.
This eventing helmet melds superior fit and safety for a rider facing a tough cross-country course. It's also stylish enough to carry a rider through their dressage test and show jumping phases.
There's an airflow system and comfortable padding to help make a long day in the saddle a little less stressful and a lot cooler. Four adjustment areas on the harness allow for a snug and secure fit. Riders without an oval head shape will need to consider a different helmet.
6. Tipperary Devon MIPS Helmet
Highlights
A MIPS helmet that offers added protection in a rotational fall is considered essential
Lightweight while maximizing safety features
It comes in a black sparkle color option to help riders stand out from the rest of the class
Ventilation and airflow through eight slots
A stylish helmet so riders look good while staying safe
Why It's Great for Eventing
Watch out Charles Owen, the Tipperary Devon MIPS Helmet is coming for you.
This horse eventing helmet is popular because it's lightweight, has cooling features, and of course, the MIPS and superior safety that Tipperary is building its brand loyalty around.
Many riders say the interior helmet fit is superior to any other options available.
The traditional brim is less likely to snag on something like a tree branch out on a course. Removable and washable liners keep the interior of the helmet fresher.
Unfortunately, the only colors are black matte and black sparkle but these are ideal choices for eventing.
7. One K Defender Glamour Rose Gold
Highlights
Safety features, comfort, and accuracy of fit are standard
The Defender is a popular model that's trusted among eventing riders
Easy to keep clean and looking new with the matte finish
Available in 10 sizes, including for a long head
The rose gold colors definitely add some glamour to your ride
Why It's Great for Eventing
Look no further than the One K Defender Glamour Rose Gold for a beautiful eventing helmet. The truth is, all One K helmets are beautiful, but this one truly takes the cake.
The venting is a rose gold that makes it look elegant and catches the sunlight perfectly to add some sparkle on a beautiful day. The One K logo is also rose gold.
The helmet only comes in black but has a matte finish that's easy to clean after a dusty dressage test or cross-country course. Ventilation and cooling features help prevent riders from over-heating, and the fit and safety features keep the helmet snug but not constricting.
8. One K MIPS CCS Helmet
Highlights
The outer shell is made of an Advanced ABS Composite to help keep riders safe
An aesthetically pleasing design that's distinct and expected in eventing
A stainless steel mesh in the helmet design provides extra protection during a fall
Multiple sizes available for both the round and oval rider's head
Padded harness for extra comfort
Why It's Great for Eventing
Eventers know that focus is paramount on the course, and that means that your equipment – helmet included – must have a superior fit before the timer releases you.
The One K MIPS CCS Helmet is padded for comfort, ventilated to help stay cool, aesthetically distinct, and with a snug and secure fit. Once you're wearing one, you won't need to worry about fit again.
The Custom Color System (CCS) gives that extra spurt of individualization that helps a rider stand out from the crowd. It's a beautiful helmet, but it did not rank as high as some of the others on our list in the recently released Virginia Tech Equestrian Helmet Ratings.
9. IRH Elite EQ Event Helmet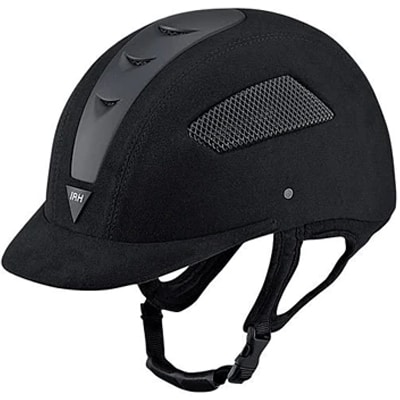 Highlights
Features a low-profile geometry that aids the rider on a cross-country course
The wrap-around harness keeps the helmet secure while on the course
Well-ventilated for riding on the warmest days
The suede finish looks professional in the dressage and show-jumping phases
Comes in the traditional black color and several sizes
Why It's Great for Eventing
A name can say a lot about a product, and that's true for the IRH Elite EQ Event Helmet. IRH is a trusted name for helmets among equestrians because of its commitment to quality and safety.
The Elite EQ is designed for eventing and is a favorite among event riders because of its sleek design, comfortable fit, and highest adherence to safety standards.
The ventilation helps keep riders cool in the dressage ring, on the cross-country course, and while show jumping.
The harness wraps around the rider's head to create a snug, but comfortable fit. All in all, this is the best riding helmet for eventing.
FAQ
What are the show jumping helmet requirements?
All show jumping helmets must be ASTM/SEI certified and of a conservative color. Therefore, in some cases, you can use your eventing helmet.