10 Best Barrel Saddles Actually Worth the Money (2023)
Barrel racing is a sport of high speed and sharp turns. The fastest competitors are well under 20 seconds. That being said – riders need a good saddle to keep them secure.
The best barrel saddles offer a high cantle and horn, with a deep seat and wide swells. These features support the rider and offer security.
We Recommend
Best Barrel Saddles
1. Circle Y Kelly Kaminski Blaze Flex2 Barrel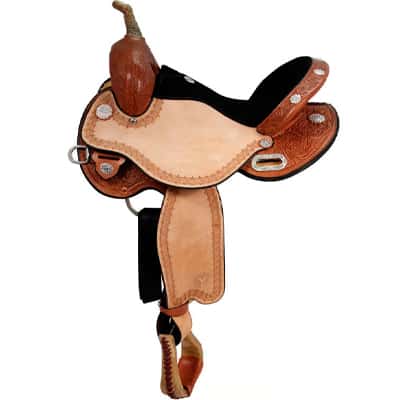 The Circle Y Kelly Kaminski Blaze Flex 2 is a top barrel saddle among riders at all levels because of its lightweight design and flexible tree that makes it more comfortable for the horse and rider.
Kelly Kaminski, a two-time world champion in barrel racing, designed this saddle based on what she knows works, making it the best barrel saddle that money can get.
This saddle is a favorite among riders with short-backed horses because of the smaller skirt and offers numerous stability features for the rider.
Its high back barrel saddle offers stability, but the high back can impede mounting and dismounting. The ergo-balanced stirrups will reduce knee pain for riders as well.
What We Liked
Tall cantle – at 5 inches – provides extra security
The lightweight saddle is easy to tack up and lightweight for the horse
Impact foam seat makes long days in the saddle easier
Shock-absorbing skirt eases the strain on the horse and rider
Easily lock your elbow into your hip on the turns with the horn size and shape
What Can Be Improved
Less skirt than other western saddles to distribute weight across the horse's back
Better for horses with short backs because of the smaller skirt
High cantle can make mounting and dismounting harder for some riders
Type: Barrel Racer Saddle
Weight: 22 lbs
Seat Size: 13'' to 17''
Gullet With: 6.5'' to 8''
2. American Saddlery The Denero Barrel Racing Saddle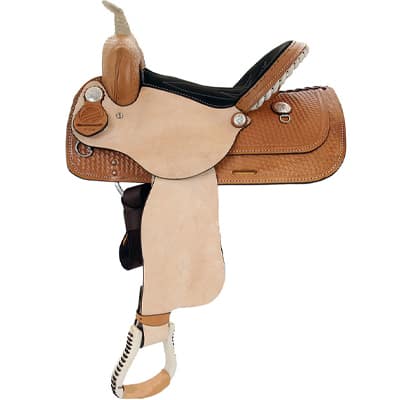 Trainers, beginners, and those with young or unruly horses will rejoice in the American Saddlery, The Denero Barrel Racing Saddle.
Not only is it the best budget barrel saddle, but it is also a rough out with extra grip without sacrificing function. Security is in all parts of the design, from the seat to the stirrups.
The saddle has just enough design touches, from the rawhide braid to tooling to transition from schooling to competition.
The design does mean it fits stock horses best, and it's popular with Quarter Horse owners, featuring the bars and a gullet made for the breed.
What We Liked
A rough out barrel saddle that provides extra grip at a fast pace
Blevins buckles keep the stirrups securely in place
Rawhide, hand-braided horn is stylish and offers a good grip
A range of seat sizes make this a good saddle for a variety of riders
Beautiful, full basket weave tooling adds the design piece sought out by many
What Can Be Improved
Two-tone leather and a third color in the seat
Adjusting the stirrup height takes a few extra minutes
Quarter Horse bars won't fit all breeds, while the gullet is only available in a 6.75-inch
Type: Barrel Racer
Weight: 25 lbs
Seat Size: 13'' to 16''
Gullet With: 6.75''
3. Double J Pozzi Pro Barrel Racer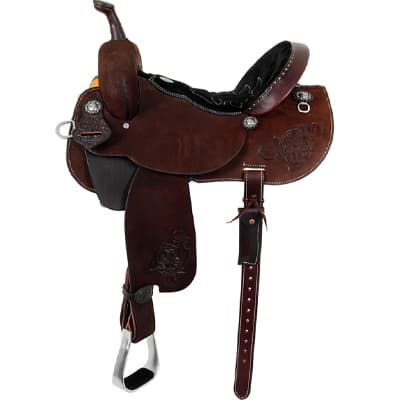 The Double J Pozzi Pro Barrel Racer is the best saddle for barrel racing, as determined by the pros.
It's a roughout saddle with extra grip that the pros need as they move through their day, working horse after horse.
Even better, this saddle is also fully customizable, meaning it can fit you and your horse like a glove, without any extra padding.
The features of this saddle means that it can fit most horses out there, of any breed.
However, riders can also customize the saddle to such a degree that they limit themselves on how many horses fit it.
Overall, it's a good barrel saddle for everyone from a top pro to an avid amateur.
What We Liked
Bars are available at either 90-degrees or 94 degrees
Riders can choose between a traditional fleece skirt lining or foam
Most horses (over 90%) fit the standard or regular tree options
Superior and quality craftsmanship ensure the quality of this saddle lasts a long time
Breadth of seat options from 13 to 17-inches will fit most riders
What Can Be Improved
Limited to one color option
Highly customizable means it can be harder to use this saddle on a variety of horses
Only two gullet widths are available and bar degree is determined by gullet width
Type: Barrel Saddle
Weight: 28 lbs
Seat Size: 13'' to 17''
Gullet With: 6.5'' or 7''
4. Martin Saddlery Sherry Cervi Stingray Barrel Racer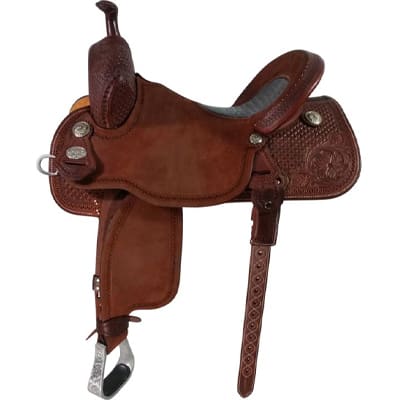 MP Meter My Hay – also known as Stingray – is the famous barrel racing mount of Sherry Cervi, and while the Martin Saddlery offering may not turn you into a world champion, many consider it the best barrel racing saddle.
The Sherry Cervi Stingray Barrel Racer is ideal for those serious about competing and looking for every advantage.
The saddle has a deep seat and ergonomics that were thoughtfully designed to help the rider improve their performance in a western barrel.
Stirrups have a twist and rubber tread for traction.
Smaller touches including the crocodile leather seat do put this saddle at a higher price point than some others.
What We Liked
Security and flexibility with a deep seat but slightly shorter cantle
Painless rides with the stirrup twist and tread alleviating knee pressure
Beautiful tooling and conchos can go from the training pen to show ring
The Mother Hubbard skirt fits a variety of breeds and back types comfortably
Back cinch keeps the saddle secure
What Can Be Improved
No one sees the crocodile leather seat if you're always sitting on it
A more expensive saddle that is not budget-friendly
Only comes in a chestnut color; there aren't other options
Type: Barrel
Weight: About 30 pounds
Seat Size: 13.5'' to 17''
Gullet With: 6.5'' to 9''
5. Billy Cook Barrel Racing Saddle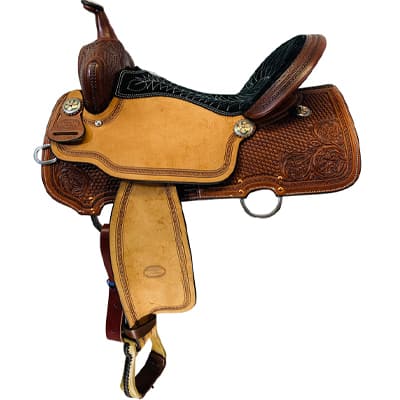 The best western barrel saddle is made by someone who knows the sport – and Billy Cook is one of them.
Riders have relied on the superior craftsmanship of his saddles for generations, and the Billy Cook Barrel Racing Saddle doesn't disappoint.
Its design creates a secure seat for riders at high speeds, making tight turns.
This saddle is great for Quarter and stock horses but may be harder to fit to other breeds because of the bars and tree.
It's lightweight and high quality, meaning that it will have a long and useful life, with horse and rider enjoying a comfortable ride.
What We Liked
Classic style and high-quality synonymous with this good barrel saddle brand
Extra snug fit for the rider with the high cantle and swell
Quarter Horse bars fit most members of the breed easily
Long skirt distributes weight evenly across the horse's back
Padded seat for extra comfort on a long day in the saddle
What Can Be Improved
The dropped front rigging can cause shoulder issues
Not the best fit for all breeds of horses – best for stock horses
The snug fit between the swell and cantle can impede movement
Type: Barrel Racing Saddle
Weight: 29 lbs
Seat Size: 14'' to 16''
Gullet With: 6.5'' to 8''
6. Circle Y Team Camarillo Show Stopper Barrel Saddle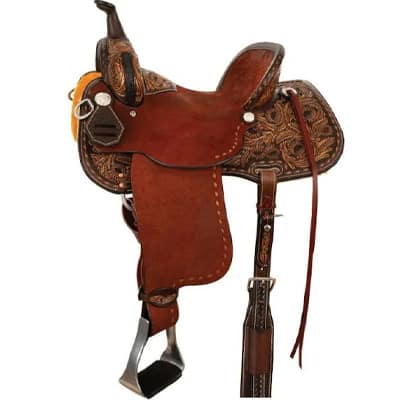 Why have just any old western barrel saddle when you can have a show stopper?
The Circle Y Team Camarillo Show Stopper Barrel Saddle lives up to its name and helps barrel racers be on top of their game, and the point standings.
The three-way adjustable fit in the skirt rigging makes it easy to fit horses of all shapes and sizes while the hardseat provides a balanced ride even as the saddle sees more use.
Riders must be confident in the saddle though, since you'll sit more on top of the saddle rather than in it when using a hardseat.
What We Liked
In skirt rigging has three-way adjustment to fit a variety of horses
Comes in a regular or a wide tree option
Popular barrel saddle brand known for quality products
Secure cell phone holder on the saddle for convenience
Great for smaller riders with a 12.5-inch seat option up to 16-inches
What Can Be Improved
Hardseat positions the rider on top of the saddle instead of in it (although it's comfortable)
The 24-inch-long skirt can be a challenge on short-backed horses
Vintage color isn't the trendiest in some breed competitions
Type: Barrel Saddle
Weight: 26 lbs
Seat Size: 12.5'' to 16''
Gullet With: 6.5'' to 8'
7. Dakota Barrel Racing Saddle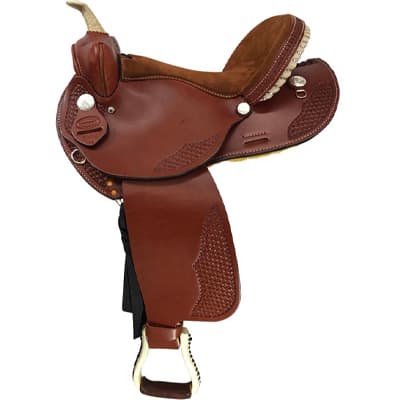 The Dakota Barrel Racing Saddle is considered the best barrel saddle for beginners.
The economical price doesn't take away the features like a secure seat with a five-inch cantle, and lighter weight that distinguish barrel saddles from other types.
The steel tree means helps this saddle withstand years of use while maintaining fit and durability.
Unfortunately, beginners have limited seat size choices with this Dakota. Only 14 through 16-inch seats are available, making it hard to fit shorter or taller riders.
But those riders fitting in these seat sizes will enjoy a quality saddle and close contact with their horse without breaking the bank.
What We Liked
Riders feel safe with the five-inch cantle keeping them snug
Close contact feel on the horse, without excess leather and padding
Lightweight and easy to handle for any rider
The steel tree will last for a long time without wearing down
A cheap barrel racing saddle that's good for any budget
What Can Be Improved
Steel tree doesn't offer as much give to the horse and can cause fit issues
Golden brown color isn't popular for competition right now
Limited seat sizes available in this model
Type: Barrel Saddle
Weight: 27 lbs
Seat Size: 14'' to 16''
Gullet With: 6.5'' to 8''
8. American Saddlery Bear Trap Rancher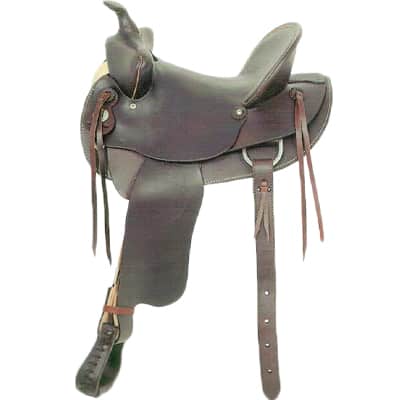 The American Saddlery Bear Trap Rancher offers the bear trap's security of the deep seat pocket enclosed with a high cantle, and swells pitched towards the rider for barrel racing.
It's a favorite among those that also use their saddle for work, and newer riders looking for extra features to keep them feeling locked into their seat.
One downside to this model is the limitations of who can use it based on seat and gullet size, but those in the range will find it's an ideal saddle to use even as you transition from work to the barrels.
An added bonus is that the horn is two-inches wide, offering good grip.
What We Liked
The security of a bear trap barrel saddle is un-paralled
High-quality, Steele Equi-Fit tree is known for its durability
Offers the flexibility of barrel racing or heading out on the ranch to work
Stirrups position the rider's leg forward adding to the saddle's security
Rich, dark color is hard to damage or ruin
What Can Be Improved
Limited seat and gullet size
A heavier saddle at 35 lbs than most use in a western barrel racing saddle
Not designed for barrel racing but can be used in the discipline if wanted
Type: Ranch Saddle
Weight: 35 lbs
Seat Size: 14'' to 16''
Gullet With: 7'
9. High Horse Alice Barrel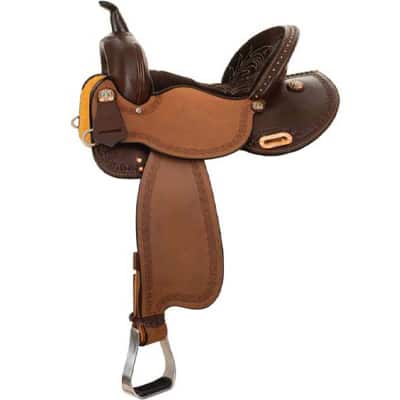 The High Horse western barrel may not have the brand name cache of other saddles, but that doesn't impact its functionality.
In fact, riders feel like they are riding high in the Alice Barrel, with a secure fit for any size rider at a reasonable price point.
This saddle comes in more size options than we typically see in a barrel saddle, and that means it's always in demand.
Despite the size flexibility, it is missing some of the key features we would prefer to see, including roughout or wider stirrup treads.
However, form meets function on most other features, and we love the small, elegant touches that help the High Horse Alice Barrel stand out in a crowd.
What We Liked
Chocolate or mahogany color options available
Beautiful turquoise thunderbird hardware adds a dash of elegance
An extra wide tree is available on the 14 through 17-inch models for larger horses
Even the most petite riders can use this saddle with its 12-inch seat option
A budget-friendly saddle that doesn't sacrifice workman-like functionality
What Can Be Improved
Stirrup tread isn't as wide as we like it to be on barrel saddles
In-skirt rigging is not adjustable, leaving no options for adjusting fit
Heavier than some other barrel racing saddles
Type: Barrel Saddle
Weight: 27 lbs
Seat Size: 12'' to 17''
Gullet With: 6.5'' to 8''
10. Circle Y Athens Barrel Saddle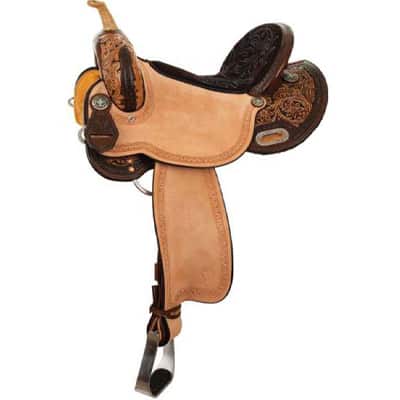 The Circle Y Athens Barrel Saddle offers understated elegance with features recognized as vital by professional riders.
It's a mainstay for Quarter Horse and Paint Horse professionals and amateurs with foundation bloodlines.
Circle Y is known as the best barrel saddle, and this model demonstrates why. The roughout areas offer extra grip while the shorter cantle and lighter weight make is easier on horse and rider over a long day.
This saddle is best on foundation-bred horses and won't fit most other breeds.
However, that hasn't diminished its popularity among the Quarter and Paint horses it was designed for and the extra wide tree means they are guaranteed an excellent fit.
What We Liked
Fashionable turquoise scallop hardware is elegant and attractive
A reinforced wide tree is available for larger horses
The seat is available in black suede or chocolate suede with two leather color options
One of the lightest weight barrel racing saddles on the market
Extra grip thanks to the roughout on the fenders and seat jockey
What Can Be Improved
Shorter cantle at only 4.5 inches offers slightly less security
Splashes of color and two-tone throughout are difficult on a colorful horse
Designed for foundation-bred horses, not for all breeds
Type: Barrel Saddle
Weight: 24 lbs
Seat Size: 13.5'' to 16''
Gullet With: 6.5'' to 8''
How to Choose a Barrel Saddle?
A good barrel saddle keeps a rider secure while allowing free movement with features like a deep suede seat and fenders that swing free.
Deep Seat
Many consider a deep seat pocket the most important feature on a barrel saddle. This is where a rider will settle in for a fast ride at sharp angles. A high cantle in the back and swell in the front help keep the rider locked in place as they blow through a barrel course.
Extra Grip
Extra grip also keeps a rider secure, either with a suede seat or roughout on the seat and fenders, give a rider that little something extra that can make a huge difference. Professionals love extra grip even more as it's important on young horses and at the end of a long day.
Lightweight
How fast can you run? Now, try again carrying 10 pounds. It's a little harder. That's why a good barrel racing saddle is lightweight. Every little bit of weight makes a difference in performance, and it matters in a sport where mere seconds determine the winner. Lightweight barrel saddles are the most popular.
Adaptable
The horse's lifespan means that many of us have multiple horses during our recreational and competitive careers. A saddle's lifespan is much longer, and an adaptable saddle that fits many horses provides more return on investment over the long haul. Reinforced trees and steel trees are other features that expand lifetime use.
Comfortable
Let's face it, a barrel racing run can be less than a minute long, but you'll spend long hours in the saddle practicing. Additional hours are spent sitting in the saddle waiting for your next round. Comfort matters because you want to be able to enjoy those hours of saddle time.
FAQ
What is a barrel saddle?
A barrel saddle is used in barrel racing competitions, where speed and agility are showcased. Most are lightweight and provide security for the rider.
What kind of saddle is best for barrel racing?
The best barrel racing saddle is one that fits you and your horse, while offering the deep seat and grip needed for success.
What is a good weight for a barrel saddle?
A lighter barrel racing saddle is better. The lightest are between 22 and 26 pounds, and they shouldn't be more than 30 pounds.
What size seat do I need in a barrel saddle?
Seat size in a barrel racing saddle depends on the length of your leg from hip to knee, and fit aids in security.
How should a barrel saddle sit on a horse?
A barrel saddle should sit squarely on a horse's back without limiting shoulder movement or extending into the croup area.
Can you trail ride in a barrel saddle?
You can trail ride in a barrel saddle and some equestrians enjoy the extra security a barrel saddle provides while out in the open.
How thick should a barrel saddle pad be?
Most barrel racing saddle pads are ¾ of an inch thick, although some riders use 1-inch thick pads.