12 Best Horse Riding Helmets in 2023 (Safe & Safety)
Horseback riding is fun because the horse lends us their spirit and power, and a true partnership with the horse is thrilling. It's essential always to stay safe, and the newer technology means that riding is safer but still stylish. The best horse riding helmets offer the maximum amount of protection during impact while being light and well-ventilated.
Top Options
Best Horse Riding Helmets
1. IRH IR4G XLT Matte Riding Helmet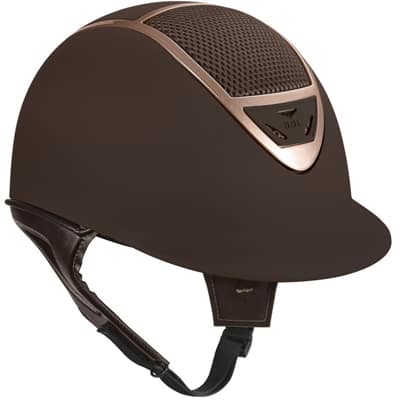 Highlights
Advanced protection makes this the best helmet for horseback riding
The ventilation ports provide adequate airflow even on the hottest days
Removable and machine-washable liners help keep the helmet fresh
Comfortable chin strap and harness are adjustable for the rider
A stylish design that's distinct and classy in the show ring or for schooling
Why is This the Best Riding Helmet
The safest horse riding helmet is always the best choice, and according to the Virginia Tech Equestrian Helmet ratings, you can't go wrong with the IRG IR4G XLT Matte Riding Helmet. This classic eventing helmet is great in any discipline and is used for both competition and schooling. The matte finish makes it easy to clean and the four sizes help every rider find the right fit.
This helmet comes in either brown or navy, adding a bit of distinction in competition, with most other riders using the traditional black helmet. Safety standards are exceeded and comfort is ensured through various features including the ventilation, chin strap, and harness.
2. Tipperary Devon MIPS Riding Helmet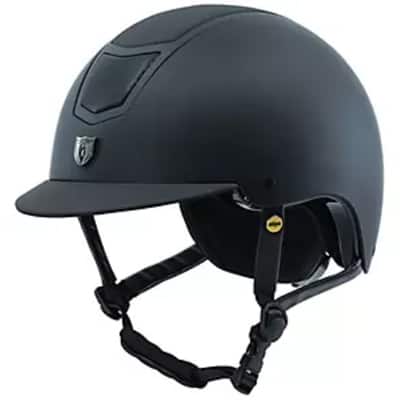 Highlights
The Multi-directional Impact Protection System (MIPS) system offers the highest level of safety in rotational falls
Has advanced safety technology but is still lightweight
A fit option for both oval and round heads with five sizes too
It offers plenty of ventilation thanks to eight ventilation areas
A riding helmet with a sparkle color option provides distinction
Why is This the Best Riding Helmet
While the IRH is safe, the Tipperary Devon MIPS Riding Helmet is actually the safest equestrian helmet. It earns these honors thanks to the MIPS system, along with other innovative and proprietary technology that Tipperary developed.
This helmet has a classic style and traditional brim, with superior fit options that make spending a long day wearing this helmet feel natural. The Devon is popular among equestrians at the highest level of the sport and is also found in countless lesson programs around the world. Riders feel safe in the advanced technology and MIPS that the helmet offers, and it's available for both round and oval head shapes.
3. Troxel Cheyenne Western Style Helmet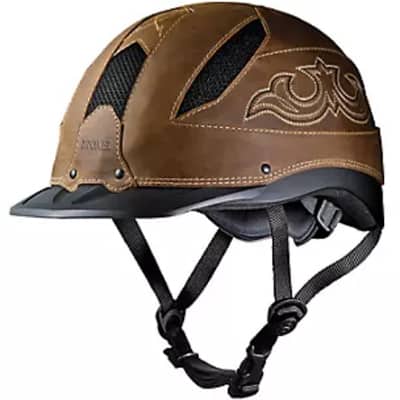 Highlights
Offered in four base sizes with a pro-fit system to help it adjust to any rider's head
Incorporates the safety standards the industry requires
Low-profile and stylish with a leather covering
Extra ventilation helps keep riders cool during long days in the saddle
Available in both brown and southwest for color options
Why is This the Best Riding Helmet
Cowgirls and boys rejoice because there is a stylish helmet for you too. The Troxel Cheyenne Western Style Helmet is the best Western riding helmet, incorporating the safety features that other riders expect in a design that Western riders can appreciate. This is a low profile horse riding helmet, so it doesn't look too conspicuous.
While this helmet does have the shape of a traditional helmet, western riders and trainers like Julie Goodnight prefer it because it is lightweight and safe, while also remaining stylish. The big thing with this helmet is that it can fit almost any rider correctly to keep them safe.
4. Resistol RideSafe Western Hat Helmet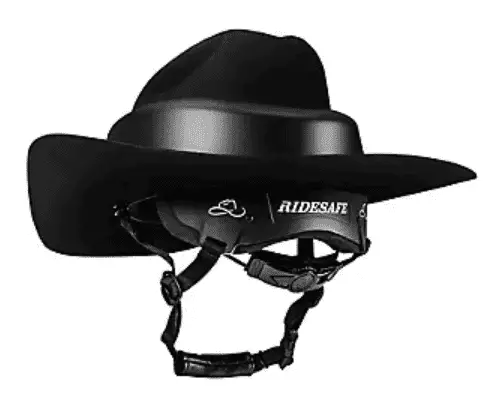 Highlights
It offers a little more sun protection than other Western helmet options
A padded chin strap reduces discomfort and chafing
Shapable brim lets riders add their own sense of style
Offered in three sizes with a comfort dial for a customized and ideal fit
It's your typical, fur-felt, black cowboy hat that so many dream of
Why is This the Best Riding Helmet
We choose safety, and Western riders should too. However, it can be hard to give up the iconic look of a cowboy hat. Don't worry, the Resistol RideSafe Western Hat Helmet has you covered. Wear this helmet while horseback riding, and you still have that sense of being a cowboy, but with some added peace of mind if something were to happen. Shaping the brim allows for further design customization.
Riders also have sun protection thanks to the brim, and a padded chin strap that is fairly unapparent. There is something here for every rider as three sizes allow for precise fitting.
5. Tipperary Windsor MIPS Wide Brim Helmet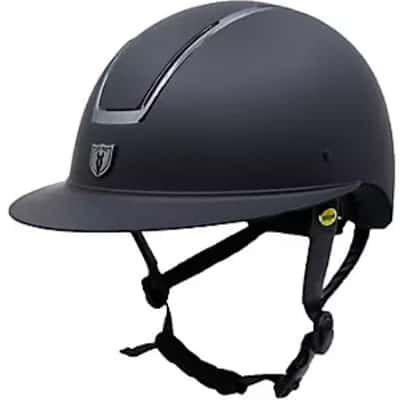 Highlights
Extra protection because of the MIPS and fiberglass, crush-resistant band
Adequate ventilation is provided using six slots
The wide brim is a unique feature that offers extra sun protection
Ample color and size options for personalization and exact fit
It received high safety ratings in the Virginia Tech helmet study
Why is This the Best Riding Helmet
Safety is at its finest with the Tipperary Windsor MIPS Wide Brim Helmet thanks to the Tipperary Retention System, MIPS, and the crush-resistant band. This helmet is a great riding helmet for round head riders, while also working for those with an oval head; a unique combination of sizing that has helped this helmet become a fan favorite.
Ventilation and rider comfort are thoughtfully infused throughout the helmet, with the machine-washable liners, the wide brim – that isn't available in a lot of other helmets, and the lightweight design and ventilation slots. The fun colors help dress this helmet up and infuse a little fun into schooling rides or competitions.
6. Champion Evolution Puissance Helmet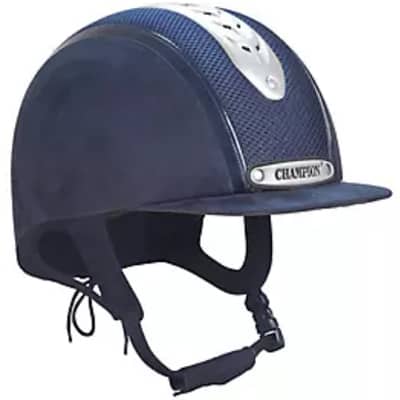 Highlights
Individually handmade and safety tested to the highest standards
An equestrian helmet for those with an oval head
Offered in both navy and black colors
Meets the certification requirements in both Great Britain and the United States
Achieve the perfect fit and hairstyle with the lacing at the back of the helmet
Why is This the Best Riding Helmet
The Champion Evolution Puissance Helmet is a popular dressage helmet because of its classic styles, high safety ratings, and elegant design. This helmet seamlessly blends safety and style while keeping a rider safe in the event of a fall, and offering a low-profile and beautiful design. These helmets are hand-made in Great Britain and undergo individual safety testing, leaving the rider with full confidence in the quality.
The harness is adjustable and comfortable, and the traditional lacing at the back allows for further customization and fit. Riders with a round head will need to look for other helmet options though as it's only made for oval shapes.
7. Charles Owen AYR8 Plus Helmet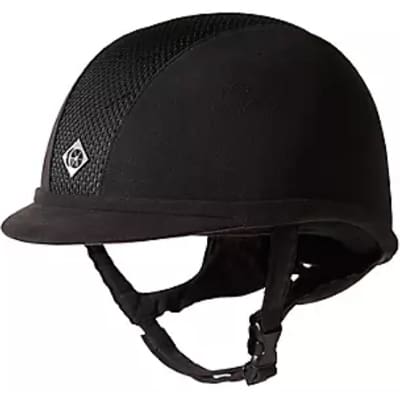 Highlights
Effective cooling is offered through 12 ventilation slots – more than other helmets
Sophisticated design and low-profile appearance
14 size options for precise fit for both round and oval head shapes
A beautiful helmet that is preferred by many, including Olympians
The Charles Owen brand has long been considered the best horse riding helmet
Why is This the Best Riding Helmet
The cool kids wear the Charles Owen AYR8 Plus Helmet, it's a popular showjumping helmet, and in other disciplines, for good reason. Charles Owen has long led the way in beautiful and stylish helmet design, and this tradition and talent come alive in the AYR8 Plus Helmet. It is low-profile and beautifully designed, being the preferred choice of many from the Olympic level to the schooling barn.
The helmet has industry-leading 12 ventilation slots to keep riders cool and is offered in 14 sizes for both oval and round head shapes, meaning that every rider can find what they need. Finally, riders also know they are safe thanks to the high ratings it received in the helmet study.
8. One K MIPS CCS Helmet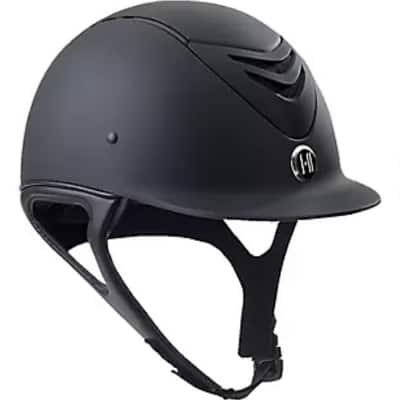 Highlights
Beautiful design that turns heads because of its distinct style
It features an advanced safety design for state-of-the-art protection
Striking color combinations allow the rider's personality to shine through
The MIPS system is included for increased safety in rotational falls
Five sizes are available and fit both oval and round-shaped heads
Why is This the Best Riding Helmet
This is the best horse riding helmet for training and breaking because it has the MIPS system that will protect a rider in the event of a rotational fall, which does have a higher probability in young, green horses. The One K MIPS CCS Helmet was designed with the active equestrian in mind and acknowledges that riders need safety, shock absorption, and style for horseback riding.
This helmet's ventilation and comfortable harness make it a great choice for long rides and busy days of working multiple horses. The removable liner can be washed and kept fresh so pulling the helmet on at the beginning of the day isn't a cringe-worthy experience.
9. Tipperary Sportage Toddler Helmet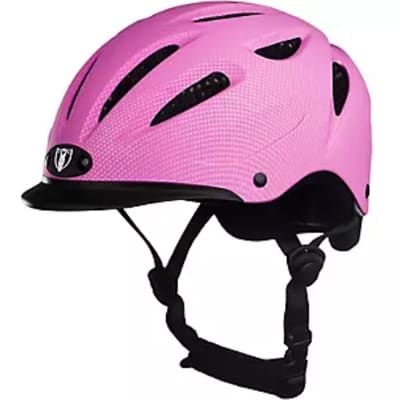 Highlights
An ABS shell and extra impact resistance for the smallest riders
Adjustable foam interior for superior fit
It's lightweight so that young riders don't get too tired wearing it
There is a reflective strip on the back of the helmet for added visibility
It comes in fun colors that kids will enjoy
Why is This the Best Riding Helmet
The Tipperary Sportage Toddler Helmet is a mini-me version of the Tipperary Sportage, a beloved favorite among riders for its lightweight design and superior safety. This riding helmet for kids ensures they are safe and can enjoy the sport for years to come without turning them into a bobblehead with excessive design.
The extra impact resistance infused into the design, as well as ventilation, helps kids be more accepting of wearing helmets and not getting fatigued. The fun colors also allow for some personality and sparkle on their rides. Tipperary also added a reflective strip to the back of this helmet to increase visibility.
10. Charles Owen MS1 Pro Skull Cap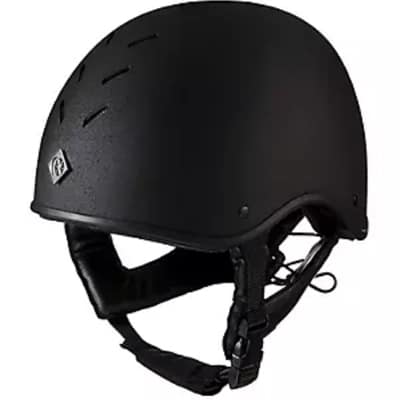 Highlights
The best equestrian helmet when a skull cap is required and it includes MIPS
Meets and exceeds the safety standards of multiple international organizations
Seven sizes are available for riders that use a regular-fit helmet
10 ventilation slots along with a removable and washable liner
The soft leather harness is both comfortable and secure
Why is This the Best Riding Helmet
The Charles Owen MS1 Pro Skull Cap is a trailblazer because it introduced the equestrian world to MIPS technology and the added safety and security that comes with wearing a MIPS helmet while riding. This is a horse rider helmet that is simplistic in design but superior in safety. Riders can jazz it up a little with their hat cover.
Adequate ventilation helps keep the rider cool on hot days, and the harness is comfortable while still keeping the skull cap snug. Three different international safety organizations have certified this helmet, and the range of sizes available are further evidence of how popular it is.
11. IRH IR4G Suede Helmet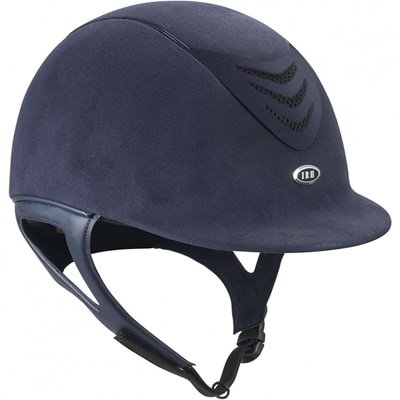 Highlights
Meets and exceeds IRH's strict safety standards for maximum protection
Low-profile ventilation slots are on the sides and back of the helmet
Snap-in liners allow for a custom fit to individual riders
A comfortable, wrap-around harness with a quick-release snap
On point with current fashion standards and the latest designs
Why is This the Best Riding Helmet
There are a lot of benefits to tradition, but sometimes they seem to slip away. We're glad that the IRH IR4G Suede Helmet is holding onto the tradition of a suede helmet. This lovely, elegant design is on point with the current fashion trends and maintains the navy or black suede of helmets of yesteryear, but with all the advanced safety we expect.
This is a great helmet for schooling because it has a comfortable harness, moisture-wicking, and removable liners, is lightweight, and has ventilation in the back. It can easily head into the show ring with a rider too, making it as versatile as the people who wear it.
12. IRH Equi-Pro Sun Visor Helmet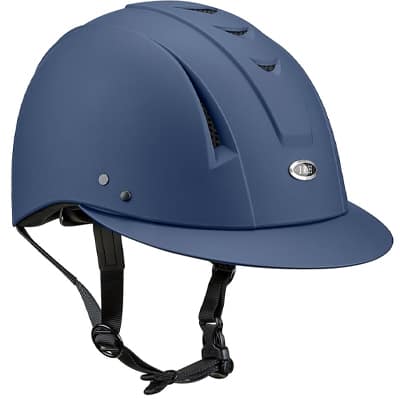 Highlights
It comes with the removable and washable cool-on lining
The sun visor provides a little extra protection while you're out riding
Lightweight and well-ventilated for schooling and days spent riding
The dial-fit system ensures an exact fit and adjustment as your hairstyle changes
Five colors – including blue and purple – are available in three sizes
Why is This the Best Riding Helmet
Most equestrians can agree that they spend a lot of time in the sun. Fewer will agree that they take all the needed precautions while in the sun. The IRH Equi-Pro Sun Visor Helmet can help with that, thanks to the added protection the built-in sun visor offers. This is also the best budget horse riding helmet while also offering adequate safety and security.
Riders enjoy the lightweight and stylish design, with adequate ventilation. It also comes with a cool-on lining that can be removed and washed. Fit is customized through the dial-fit system and the harness is adjustable and comfortable.
FAQ
Is MIPS worth it for equestrians?
A MIPS helmet is worth it for equestrians if they are eventing and jumping. Having a MIPS helmet is never a bad idea.
Can you use other helmets for horse riding?
Helmets are designed for specific sports, so you should not use other helmets for horse riding.
What is the current standard for horse riding helmets?
The current standard for horse riding helmets is that they are ASTM/SEI certified, lightweight, and breathable, and some have MIPS too.