7 Best Jumping Helmets in 2023 (Safe & Stylish)
A jumping course is thrilling, as horse and rider speed through a course of fences, seeking a clean round.
Of course, no one plans to fall off, but if it happens, you need to be protected. The best jumping helmets offer shock absorption and minimize the risk of injury. They are also comfortable, have ventilation, and are stylish.
Top Options
Best Jumping Helmets
1. IRH IR4G XLT Matte Jumping Helmet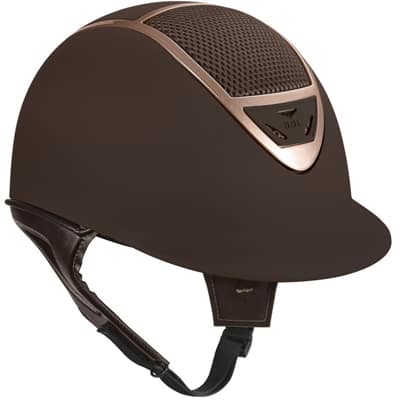 Highlights
The chin strap, harness, and helmet are comfortable while keeping the helmet snug
A stylish design that stands out in the show ring or schooling at home
Exceeds the ASTM F1163-15 standards to offer a higher level of protection
The ventilation ports allow airflow and help prevent overheating
It features removable liners that are machine-washable
Why It's Great for Jumping
IRH is a trusted name in the jumping world and for good reason.
Their team is constantly working with research and development to improve helmet safety and functionality, as is evidenced by their scores in the Virginia Tech Equestrian Helmet Safety testing.
The IRH IR4G XLT Matte Jumping Helmet incorporates new safety and style features into a favorite design.
This is the best horse jumping helmet because it exceeds current safety ratings while still being comfortable, breathable, and stylish.
There are four size and two color options to give riders individuality too. Ventilation on all sides of the helmet helps prevent overheating on the course.
2. One K MIPS Custom Color System Helmet
Highlights
This equestrian jumping helmet is infused with advanced safety technology
The distinctive and aesthetically pleasing design is a show stopper
Available in five sizes and for both oval and regular-shaped heads
Three striking color combinations allow for helmet customization
Includes a Multi-directional Impact Protection System (MIPS) for added safety in rotational falls
Why It's Great for Jumping
The best show jumper helmet is the One K MIPS Custom Color System (CCS) Helmet because it has safety features with custom colors to complete the show ring look.
MIPS is an important feature for show jumpers to seek in their helmets, as riders can fall a greater distance if it happens while they're headed over a fence. The MIPS provides additional protection during a rotational fall and shock absorption.
Safety is important, but so is comfort, as many riders spend hours or even all day in their helmets. Ventilation, a padded harness, a comfortable chin strap, and a removable liner complete this package.
3. IRH IR4G Suede Jumper Style Helmet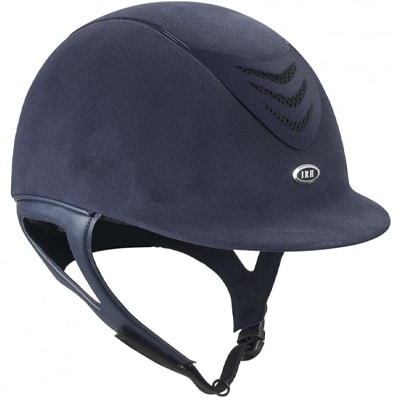 Highlights
Four helmet sizes are available, fitting the majority of riders
Snap-in liners make it easy to customize the fit even more
The quick-release on the chin strap makes it easy to remove
Comfort isn't sacrificed in pursuit of safety
It's the traditional suede expected in a show jumping helmet in either black or dark blue
Why It's Great for Jumping
Suede used to be standard in the show ring until it fell out of fashion as new helmets were developed and riders thought they couldn't have safety and ventilation with it.
Well, suede is back and the IRH IR4G Suede Jumper Style Helmet incorporates that time-honored helmet feature into one of the safest and most breathable helmets available.
This is the best helmet for jumper style riding because it is the classic show helmet with the safety features riders don't want to mount up without.
The interior liners can be removed and washed to keep the helmet smelling fresh and clean even during the hot summer months.
4. Tipperary Windsor MIPS Wide Brim Helmet
Highlights
This helmet has some of the highest safety ratings of any jumping helmet studied by Virginia Tech
It has a crush-resistant fiberglass band and MIPS technology for extra protection
Six slots provide extra ventilation
The wide brim isn't offered in a lot of other helmets
It comes in five size options and three different color choices
Why It's Great for Jumping
Why settle for anything less than the best? The Tipperary Windsor MIPS Wide Brim Helmet is the safest jumping helmet on the market, making any helmet decision a whole lot easier.
This helmet uses the standard safety features that all helmets have as its foundation and adds the Tipperary Retention System, which, when combined with MIPS and the standard features, makes it almost untouchable.
We also love that it's lightweight, comfortable, stylish, and has a removable and machine-washable liner. The wide brim is hard to find, and much appreciated, while the extra sizes and fun color combinations are the icing on the cake.
5. Charles Owen AYR8 Plus Helmet
Highlights
A beautiful design with a low-profile and elegant look
An industry-leading 12 ventilation slots for effective cooling
Offered in both a round and oval shape to fit a wider variety of riders
The preferred helmet of many Olympians, including Boyd Martin and William Fox-Pitt
A jumper helmet with more size options than any other – 14 choices
Why It's Great for Jumping
Choosing a Charles Own helmet says something about who you are as a person. It says that you care about how you look and feel, and take pride in that appearance.
The Charles Owen AYR8 Plus Helmet comes in more sizes than any other helmet on the market because of demand. It is the best show jumping helmet according to everyone from Olympic athletes to riders in a lesson barn.
Added ventilation makes wearing this helmet in the middle of summer a breeze, and removable and washable liners help keep it clean. The safety features mirror industry standards with a sophisticated design not found in many other options.
6. Champion Evolution Puissance Jumper Helmet
Highlights
Handmade and tested individually for safety
The lacing at the back allows for more creativity with hairstyles while maintaining proper fit
Best for riders with an oval-shaped head
Comes in a beautiful navy color as well as the more traditional black
A hunter jumper helmet from Britain that also meets our safety guidelines in the United States
Why It's Great for Jumping
Great Britain has long led the safety and style charge for equestrian helmets, and the Champion Evolution Puissance Jumper Helmet is the culmination of those efforts.
These helmets are hand-made in Great Britain and adhere to both the strict British helmet safety requirements, as well as those from the United States.
Helmets can be further customized for an exact fit with the four adjustment areas on the harness.
Unfortunately, it's only made for riders with an oval-shaped head, but they don't really need other options with this helmet on the market.
The safety features and style make it versatile enough for dressage, eventing, or a day riding to hounds too.
7. Tipperary Devon MIPS Helmet
Highlights
Let your personality shine through with the sparkle option in this horse jumping helmet
It features the MIPS system that no rider should mount up without
Eight airflow slots provide more than adequate ventilation
Tipperary maximizes safety features in a lightweight model
Style meets safety once again with Tipperary's signature look
Why It's Great for Jumping
There's a long-standing rivalry (and some hard feelings) between England and Ireland, and it appears the Tipperary Helmets are challenging the British brands for the top spot.
The Tipperary Devon MIPS Helmet incorporates the best features that Tipperary has to offer in another safe and lightweight model. This one offers some extra oomph through a sparkle color option to complete the look.
Riders who don't like the wide brim on Tipperary's Windsor seek the Devon for its traditional brim and classic style. The interior helmet has a superior fit to anything else on the market, and most riders don't need extra padding or liners to ensure it fits correctly.
FAQ
Can you wear a skull cap in show jumping?
Skull caps are used in eventing, and although you can wear one while show jumping, most people select other helmets.
What are the show jumping helmet requirements?
Riders must wear a helmet certified by SEI to ASTM F1163-15 for show jumping in the United States. The FEI allows for other certifications too.