7 Best Western Riding Helmets in 2023 (Safe & Stylish)
Safety is just as much of a concern for Western riders as it is for those in English disciplines. Unfortunately, the helmets didn't always keep pace, but all that's changed now. Today, the best western riding helmets meld the innovative technology that helmets are known for with the sense of style of a cowboy hat.
Top Options
Best Western Riding Helmets
1. Troxel Cheyenne Western Riding Helmet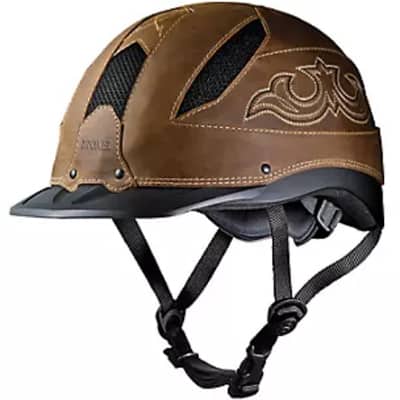 Highlights
It builds on two previous generations of this popular western helmet
Ample ventilation to keep you cool on any ride
It's a low-profile helmet that looks stylish
The pro-fit system along with four sizes means it will fit any rider
There are two colors available, brown and southwest, with a leather finish
Why It's a Great Western Helmet
The Troxel Cheyenne is the best western horse riding helmet because it's the one that the pros know, love, and use. Julie Goodnight, a popular clinician and trainer uses the Troxel Cheyenne, and for good reason. This helmet has the advanced safety features offered by all Troxels along with the advantage of being designed for western riders.
There are six ventilation slots that help keep riders cool, a low profile design with a leather covering, and a sure-fit system that means it can be adjusted to fit any rider. Finally, the FlipFold removable and washable liner keeps it fresh even after a long day in the saddle.
2. Resistol RideSafe Western Hat Helmet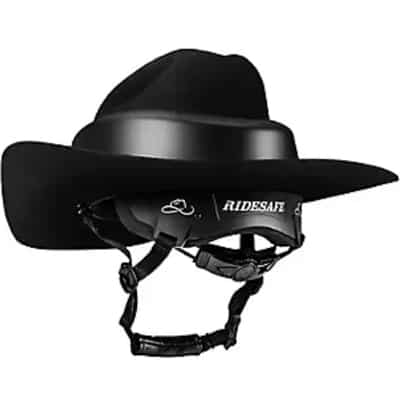 Highlights
It is a black cowboy hat and has the fur felt riders know and love
The brim is shapable just like your favorite cowboy hat
Comfortable and padded chin strap
Three sizes are available so every rider can find the correct fit and customize it with the comfort fit dial
ASTM/SEI approved so it keeps you safe
Why It's a Great Western Helmet
The best cowboy hat helmet is the Resistol RideSafe Western Hat Helmet because it's an actual cowboy hat, right down to the fur felt, with a helmet as well. You can have the appearance you would while wearing a regular cowboy hat with the safety and peace of mind that comes with wearing a helmet.
Riders love this horse riding hat helmet because of its comfortable harness and fit dial for customization and the lightweight build. Best of all, the brim on the cowboy riding helmet can be shaped to whatever style you prefer. Don't sacrifice safety for style, ride in a Resistol RideSafe instead, and get the best of both worlds.
3. Troxel Low Profile Sierra Western Style Helmet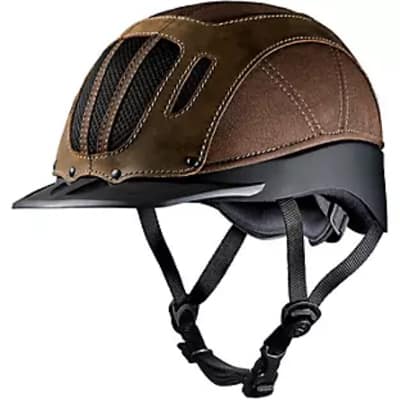 Highlights
Troxel western riding helmets are industry leaders in safety
The low-profile fit keeps your choice of wearing a helmet discreet and stylish
It offers four sizes and an adjustable fit so any rider can use it
The rugged nylon and leather covering is built to last
Four colors are available: black, brown, tan, and denim
Why It's a Great Western Helmet
Many riders agree that the best western-style riding helmet is the Troxel Low Profile Sierra Western Style Helmet. Like the mighty Sierra Nevada Mountain range that it's named after, this helmet is built to withstand the elements and last. It has a low profile so you ride unencumbered, but with the latest safety enhancements available, thanks to Troxel's innovations.
Six ventilation areas help keep the rider cool, even on long rides, and it has a removable and washable liner for days when it's hard to beat the heat. You'll be safe, comfortable, and durable in this helmet in even the most rugged terrain.
4. Troxel Low Profile Dakota Western Horse Helmet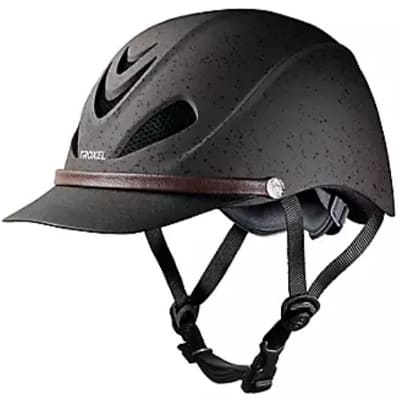 Highlights
Beautiful touches in the leather hatband and concho
The adjustable fit and four size options make this easy for any rider to use
Lightweight and breathable with seven ventilation areas
Kids and the young at heart love the fun colors including Turquoise Paisley and Badlands
The wider brim offers a little extra sun protection
Why It's a Great Western Helmet
The Western lifestyle holds a lot of allure and the Troxel Low Profile Dakota is a western style horse riding helmet that feeds into that allure with its finishing touches and colorful styles. The Turquoise Paisley and Badlands colors harken to the Western art that riders know and love, while the leather hat band and concho are similar to those found on other Western apparel.
Of course, safety isn't sacrificed for style, and Troxel again incorporates the best of the ASTM/SEI features making it a lightweight, breathable, and comfortable helmet. The matte finish is easy to clean, and the four sizes and adjustable fit ensure the right fit.
5. Troxel Rebel Helmet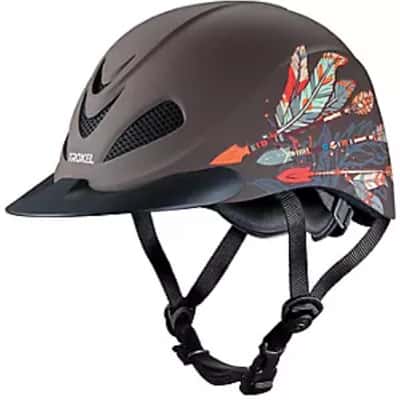 Highlights
The headliner has an airflow channel and is removable and washable
This is a favorite of various age groups in many Western disciplines
The sure-fit system ensures the correct protection needed for maximum safety
Six different decorative options including Arrow and Dreamcatcher
Riders can easily match their tack using some of the styles available
Why It's a Great Western Helmet
A Western horse riding helmet should feel Western, and that's exactly what Troxel did with their Rebel Helmet. Six different options incorporate parts of the Western lifestyle and culture, from the dreamcatcher to Navajo art and turquoise.
Troxel helmets received good ratings from the Virginia Tech Equestrian helmet study, and those features are all available in its Western helmets too. The Rebel incorporates the latest technology in a lightweight option that's an equestrian favorite because it also has good ventilation and a playful sense of style. The matte Duratec finish is scratch resistant and easy to clean and the moisture-wicking lining can also be removed and cleaned.
6. Troxel Helmet Brimmer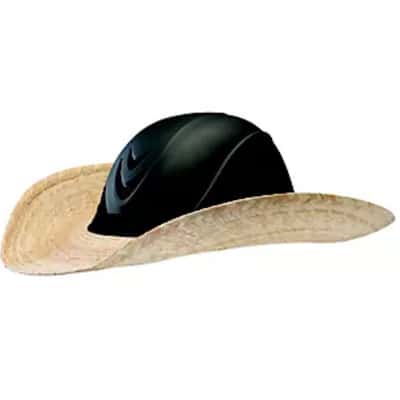 Highlights
It turns any helmet into a stylish and classic Western horse helmet
The Brimmer offers ample sun protection that's vital for skin health and safety
It's lightweight but secure on the helmet so you don't need to worry about it falling off at a speed
The tan genuine palm leaf deflects heat
It's made to fit most Troxel helmets
Why It's a Great Western Helmet
The Western equestrian helmet may not have as many styles as English helmets do, but with the Troxel Helmet Brimmer, any helmet can become a Western style. The Brimmer easily attaches to the helmet using a patented system that turns a regular helmet into a Western hat. The wide brim around the entire helmet offers sun protection and helps keep the rider cool, both vital aspects of the original Western hat. The tan color also deflects heat.
Riders can use a Brimmer with most Troxel helmets, and its genuine palm leaf is lightweight, but very secure at faster paces, thanks to the patented attachment.
7. Troxel Liberty Helmet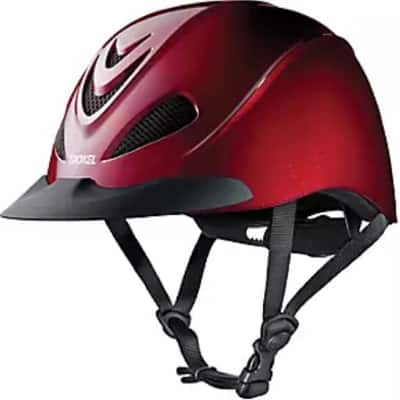 Highlights
It comes in five sizes including the extra-small needed by youth or petite riders
The Dial Fit system makes it quick and easy to adjust
Lightweight and breathable
An economical western style riding helmet that's great for schooling or on the trail
Nine colors allow for plenty of customization and personal preference
Why It's a Great Western Helmet
The Troxel Liberty Helmet is found in barns around the country as a trusted schooling helmet, for lesson programs, or lightweight option for a day out on the trails. The most fun aspect of this helmet is the range of color choices available, with nine to choose from, that really lets the rider's personality shine through.
Safety is paramount in any program, and Troxel offers all their standard safety features in this ASTM/SEI-approved helmet. It's also easy to adjust to any rider's head with the dial fit system, and the extra small size means that even our youngest riders have the protection they need.