7 Best Roping Saddles Actually Worth the Money (2023)
Roping is a thrilling sport, there's the speed, the twirling of the rope, the release, and hopefully, the moment you rope your target.
Then comes the jolt from the weight of the steer that was roped and a sense of gratitude for a roping saddle.
The best roping saddles have tall horns, suede seats, and forward-hanging stirrups.
We Recommend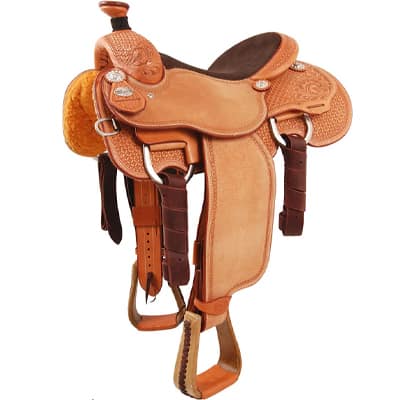 Best for Competition
Martin Saddlery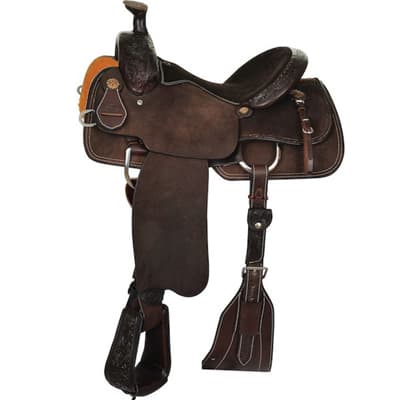 Best for Beginners
Circle Y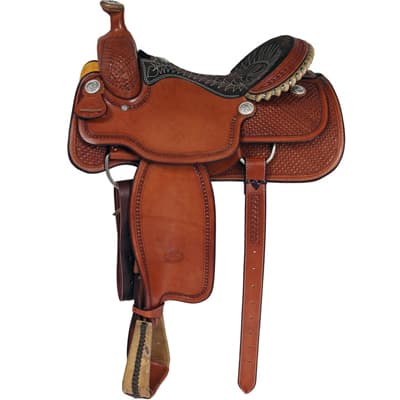 Best Value Option
Billy Cook
Best Roping Saddles
1. Martin Saddlery Joe Beaver Calf Roper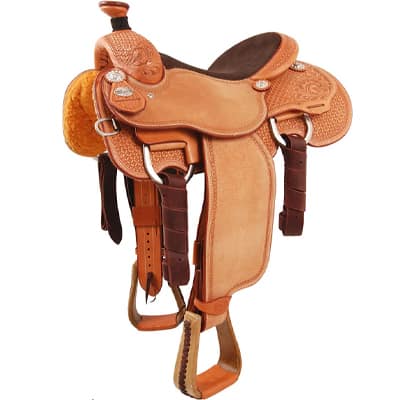 Competitive ropers, this is your saddle. The Martin Saddlery Joe Beaver Calf Roper is the best roping saddle for the money and the only one you want when competing.
Joe was a team roper and has over $3 million in career earnings. He knows what riders need in a rope saddle when there is a high speed and a lot of torque.
This quality roping saddle has a reinforced tree, heavy-duty leather, a seat designed to keep you secure, and wider bars than other saddles.
The horn is shorter, which reduces torque on your horse, but means you need to be more skilled with your rope.
What We Liked
The security that the high back roping saddle provide the rider
Easier mounting and dismounting because of the lower profile
Sturdy leather that can withstand wear and tear in the arena
Weighted fenders to help keep your body and feet aligned
Wider bars that let the horse move freely through its shoulders
What Can Be Improved
Shorter saddle horns are tough on your first roper
Riders need a better seat because of the lower profile cantle and pommel
Stirrups don't place the leg as far forward as some other saddles
Type: Calf Roper
Weight: 36 to 40 lbs
Seat Size: 13.5'' to 17''
Gullet With: 6.5'' to 8''
2. Circle Y Lipan Roping Saddle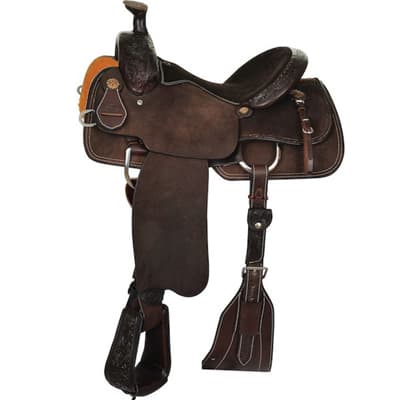 Form meets function in the Circle Y Lipan Roping Saddle.
This saddle was designed by a roper too, with features that naturally keep the rider centered and square, allowing the rider's focus to be directed to the task at hand.
This is a popular roping saddle because it's versatile and can be used for various types of roping and riders can stay in the saddle all day without feeling any joint pain because of the pre-turned fenders.
This saddle is best for newer riders and those looking for comfort and performance in one package, but may not be the best choice for higher-level competition.
What We Liked
A reinforced tree with a lifetime warranty to keep you safe and secure
Pre-turned fenders alleviate knee and ankle pain during long days in the saddle
Sit square and centered naturally in this ranch roping saddle
Easily cue your horse because the design allows closer contact
Lower cantle for easier mounting and dismounting
What Can Be Improved
The chocolate suede color may not be ideal for some breeds in competition
The seat is narrow so may be better for women
Not the best choice for a competition, but serviceable
Type: Ranch roping
Weight: 38 lbs
Seat Size: 14'' to 17''
Gullet With: 6.5'' to 8''
3. Billy Cook Arena Roping Saddle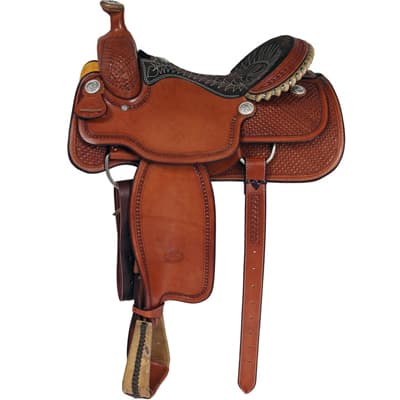 This is one of the best roping saddle brands and for a good reason. The company has manufactured roping saddles since 1953, after Billy returned from the army.
The craftsmanship, quality, and affordability that he championed are still present in all their saddles.
Quality matters and this saddle will last for years once you start riding in it.
The Billy Cook Arena Roping Saddle also features a sturdy roping saddle tree that has withstood the test of time and plenty of arena runs thanks to the rawhide covering on the wooden tree.
The only downside is you'll also spend some extra time cleaning the hand-tooled leather on this saddle.
What We Liked
Pre-twisted fenders equal a comfortable ride on day one
Easily fits horses in a variety of shapes and sizes
A touch of silver trim adds some extra style to your ride
The chestnut color of this saddle isn't available in all the Billy Cook saddles
Versatile saddle that can be used out on the trail too
What Can Be Improved
Beware of knockoffs, this is a genuine Billy Cook, but there are imitations
Limited seat sizes at only 14.5" to 16" seats available on this model
The waffle pattern is beautiful but requires extra time cleaning
Type: Arena Roper
Weight: 37 lbs
Seat Size: 14.5'' to 16''
Gullet With: 6.5'' to 8''
4. Dakota Roping Saddle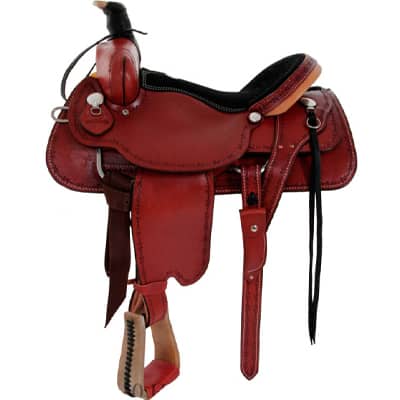 The Dakota Roping Saddle is the perfect option for the new to roping rider exploring the discipline.
It's a quality saddle in an affordable package that will provide you with years of service.
It's comfortable and the horn height offers a maximum range of motion for the rider. This saddle is best for muscular horses and is often used as a team roping saddle.
The Dakota roping saddle brand has been around for years and is respected by competitive and recreational ropers.
The Steele Equi-Fit tree means this saddle is highly consistent – if you test one and then purchase another, you can be certain of getting the exact same saddle.
What We Liked
Comes with a full flank set (back cinch) to stabilize the saddle
Five-year warranty on the Steele Equi-Fit fiberglass-covered tree
Another saddle made in the United States – this one in Alabama
The best first roping saddle at an affordable price
Barbed wire border on the saddle offers a subtle style-touch
What Can Be Improved
The fiberglass covered tree can cause fit issues in some horses
There is less flexibility and give in a Steele Equi-Fit tree
Not made for narrow or petite horses; fits muscular horses best
Type: Team Roper
Weight: 38 lbs
Seat Size: 14'' to 17''
Gullet With: 6.5'' to 8'
5. Circle Y Mesquite Roper Saddle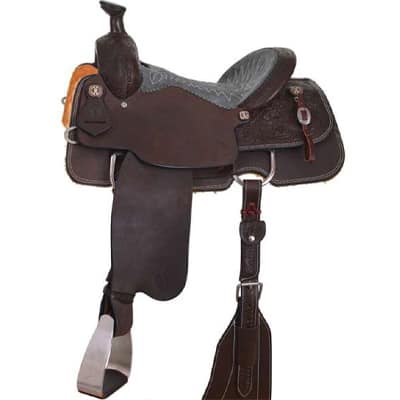 You'll be ready to ride as soon as this saddle arrives thanks to the pre-turned fenders.
Circle Y is considered by many as the best roping saddle brand and a few minutes in this saddle help you understand why.
The tree is specially designed to provide the rider with more balance and help their seat cue the horse.
The Mesquite is an ideal calf roping saddle but is popular with team ropers too. A key reason this saddle has remained so popular is the durability that's built into it.
The only downside is that it's a couple of pounds heavier than your average roping saddle and that feels heavy at the end of the day.
What We Liked
The LTM Kevlar tree improves the rider's balance and communication with the horse
The saddle is available in a regular tree or wide tree model offering flexibility of fit
Back cinch evenly distributes pressure and keeps the saddle secure
Rich chocolate color
Hand-sewn rigging and bindings provide elegance in a functional package
What Can Be Improved
Some people still prefer wood trees and the LTM Kevlar tree disqualifies the Mesquite
The tall and wide horn can make mounting and dismounting challenging
This is one of the heavier roping saddles available
Type: Calf Roper, Team Roper
Weight: 40 lbs
Seat Size: 14'' to 17''
Gullet With: 6.5'' to 8''
6. Double J Hi-Tech Roper SDR212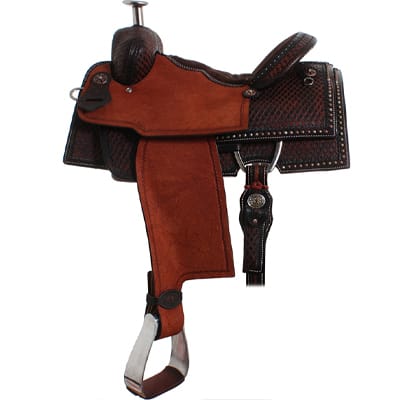 The best roping saddle feature is one you'll never see, but your horse knows it's there.
The Double J has a lining on the underside of the saddle skirt that improves the horse's comfort, the same way insoles in our boots do.
This saddle really shines in the competition arena; it's great as a breakaway roping saddle and considered by many to be the best team roping saddle.
The hi-tech in the name shines through in the features that give the rider a slight advantage with speed, efficiency, comfort, and rope handling.
The Hi-Tech Roper is expensive, but as the saying goes, "you get what you pay for."
What We Liked
The saddle trees available fit 90% of horses and they can customize for you
Saddle design is also customizable
The stirrup leather hanger is adjustable so you can position the fender yourself
3-way rigging evenly distributes the weight of the saddle and rider
The stainless horn holds dallies in place better
What Can Be Improved
Not for lighter horses, it fits heavier horses best
It's a hi-tech saddle – as the name implies, with a unique design and aluminum stirrups
The stainless steel horn – you either love it or hate it
Type: All-Purpose Roper
Weight: 36 lbs
Seat Size: 13'' to 17''
Gullet With: 6.5'' to 8''
7. American Saddlery Hoss High Roper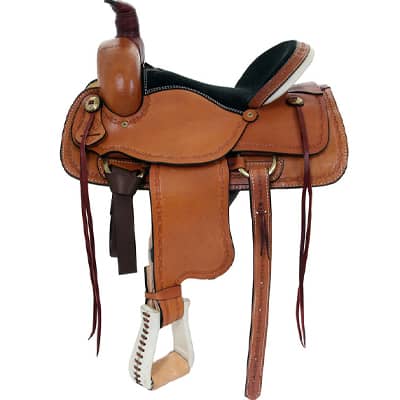 Here is the best calf roping saddle with good news, its functionality means you can use it for other types of roping or trail riding too.
The Hoss High Roper was built to perform and at a price that's attainable. It's strong and durable, with enough flair to make it stand out in the competition arena.
The tree is a fiberglass-covered Bowman roper, ensuring the correct fit. Saddle roping is a sport that you can spend countless hours on, and you know that you'll be comfortable in this saddle.
Unfortunately, this model fits Quarter Horses best and isn't meant to work well with other breeds.
What We Liked
Dismount quickly and easily using the roper stirrups, they provide a competitive advantage
Quality craftsmanship and long-lasting durability at a good price point
Steele Equi-Fit tree provides even weight distribution
Tall horn and cantle make it easier to navigate the roping arena
The cantle has a rawhide edge for extra style
What Can Be Improved
Limited seat sizes available, only three, the 15," 16," and 17"
This saddle fits Quarter Horses best and isn't a great fit for other breeds
The border tooling and conchos require some extra cleaning
Type: Calf Roper
Weight: 40 lbs
Seat Size: 15'' to 17''
Gullet With: 7''
How to Choose a Roping Saddle?
Saddle fit is the most important thing to consider when choosing a roping saddle. Few things will ruin your day faster than a poorly fitting saddle.
Horn Durability
The saddle horn is under a lot of pressure during a roping event, as the rider dallies their rope to a horn, and an animal strains against the rope. Try that in a barrel racing or some other saddle and the horn will snap. A three-inch or so the horn is standard.
Quality of the Leather
Good quality leather matters, too; it's similar to your horn, and it's going to withstand a lot of pressure over time as you continue in the sport. Quality leather will make the ride more comfortable for you and your horse. It also adds a touch of style and flair to your ride, as the saddles have intricate designs on them.
Fit
Perhaps fit should be at the top of this list because, let's face it, the saddle doesn't make much difference if it doesn't fit the horse. An ill-fitting saddle can slow the horse down at best and injure them at worst. There are plenty to choose from, so make sure the saddle you select will fit your horse.
Style
Style nuances are more than preference; a calf roper needs something slightly different from a team roper. In the beginning, these are small but can mean the difference between first and second place for a seasoned competitor. The way a stirrup hangs or the height of the horn and cantle makes a big difference.
Construction
The material used to make a tree, horn, or stirrup matters to some people. Know your preferences and choosse your saddle wisely because you will be spending a lot of time with it. Some people prefer wood trees and traditional stirrups and horns. If you're not one of them, try the newer materials and see what you think.
FAQ
What is a roper saddle?
A roper saddle is designed to withstand the pressure with a solid tree, reinforced rigging, and features to help the rider remain secure.
What is the difference between a ranch saddle and a roping saddle?
Roping saddles have distinct features from a ranch saddle, including a tall horn, suede seat, and forward-hanging stirrups to keep riders secure.
How much does a roping saddle weigh?
A roping saddle can weigh anywhere from 30 to 45 pounds.
What makes a good roping saddle?
A good roping saddle needs a solid and sturdy tree, reinforced rigging and stitching, and a design to withstand pressure.
What saddle do real cowboys use?
Real cowboys use a saddle made for the job at hand, if they are roping, real cowboys use a roping saddle.
What size roping saddle should I get?
The length of your thigh determines what size roping saddle you should get.
How thick should a roping saddle pad be?
Roping saddle pads should be one inch thick.
Can you rope in a ranch cutter saddle?
The horn on a ranch cutter saddle is tall enough for roping, but these are lightweight saddles, so use caution when roping.
What is the difference between a roper cinch and a straight cinch?
Roper cinches are shaped differently and are thicker in the middle to distribute pressure more evenly on the horse's belly.